In the hinterland of Rimini, just a short distance from the sea and the hills, work is at an advanced stage on the construction of a single-family wooden villa.
Escaping the coast and finding the tranquillity of the countryside was the aim of the client. The decision to live in an environmentally sustainable wooden house with a very low environmental impact was a direct consequence of this.
Summer and winter thermal comfort, acoustic insulation, energy efficiency, no emission of harmful substances, anti-seismic performance and also fire resistance and speed of construction are just several of the favourable technical aspects of a wooden structure.
The strictly emotional, ethical and romantic aspects that a wooden house
offers to its occupants and visitors also should not be underestimated.

The villa has two floors. On the ground floor, which measures approximately 200 sqm , there is a large living room, a dining room overlooking the garden and the kitchen. Connected by a hallway/filter, there is the bedroom wing for the four children.
On the first floor, which measures approximately 85 sqm , the space is entirely reserved for the owners.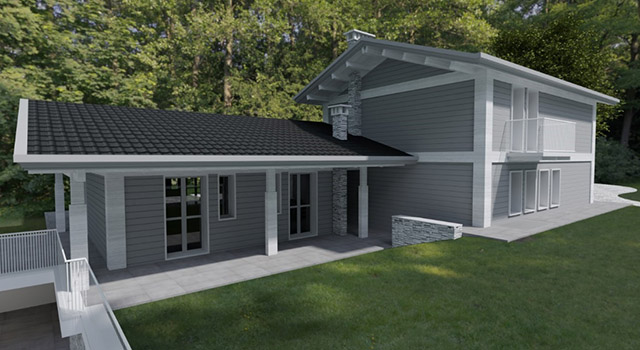 Stylistically, we have moved away from the typical country house, while maintaining its typological conformation. The characteristic materials of a country house in the Rimini hinterland have therefore been replaced by white wood, wood-effect cladding with grey shingles and dark roof tiles. It was, in fact, considered appropriate to give the right distinguishing mark to such a technologically/qualitatively different construction.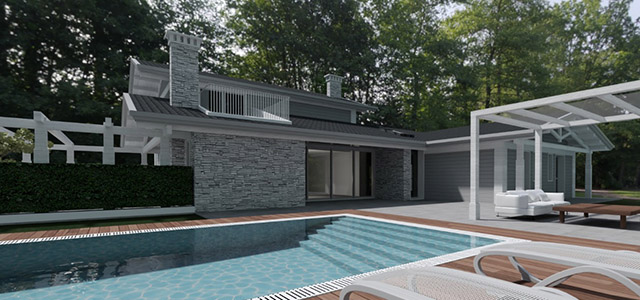 The building is equipped with electrical and plumbing systems that are almost entirely self-sufficient in energy. A large photovoltaic system, assisted by a battery storage system, provides the energy needed to run the heat pump heating system and radiant floor panels.

Mr. Igor Macrelli (architect) and Mr. Marco Gabellini (designer)
Architectural Design: Studioundici
Via Ruffini 11, 47838 Riccione
+39 0541 1903331
e-mail: info@studioundici.it
Website: www.studioundici.it