The works recently started in Ferrara for a new wooden single-family home. The house will have two floors. The day zone (with office), around 200 m², is on the ground floor and runs the entire length of the plot from east to west and addresses the countryside and luxury garden. The first floor, about 70 m², offers a classic feel with two bedrooms, wardrobe and bathroom. The garage area is accessed from the north and is at the rear of the house.
The primary aim was to have a good-looking exterior, as a passive building, and with excellent earthquake resistance in case of seismic events. Of fundamental importance for the client was to have a traceable and sustainable chain of custody and therefore a guaranteed production process of all materials.
The home's design was to be classic and current at the same time, intended to be inserted within the territory with the right orientation and to further increase the bioclimatic performance.
The design tends to look outward and emphasise the main, two-level volume, which is grafted onto the first floor and, via the precise chromatic divisions, creates a compact and harmonic whole.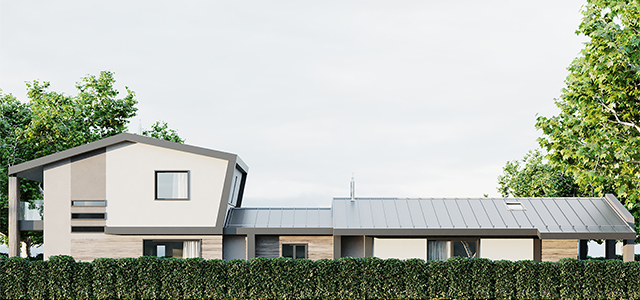 The building boasts avant-garde systems. Solar panels, inverters, accumulators, thermal mass storage, boilers, heat pumps, pressurisation units, controlled mechanical ventilation, no gas and rainwater collection system.
These innovations, together with the capacity of the volume form, attempt to achieve general self-sufficiency and a near zero emission building (NZEB).
The wooden home will be built using the Subissati Platform Frame system.
Architectural Design:
Arch. Alessandro Bertelli
Viale Volano,55 Ferrara CAP 44123
Tax ID BRTLSN69A25D548Q
VAT no. 02014520387
Mobile 3479093842
Digitally encrypted email: alessandro.bertelli@archiworldpec.it
email: arch.alessandro.bertelli@gmail.com
Structural Design: Subissati Technical Office