The works recently started on a new glulam new wooden two-family detached home. We are just a few miles from the town of Belvedere Ostrense (AN).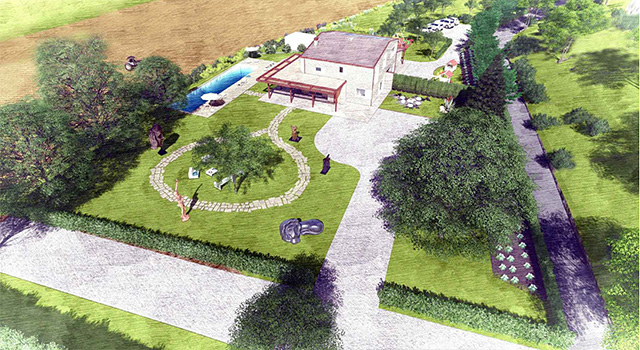 SUSTAINABLE REGENERATION
The aim of the project is to achieve an architectural and green building quality capable of combining and linking context and architecture, technologies and materials, spatiality and functionality in an integrated project.
The project concept was to make space and materials dialogue between history and modernity. The house stands on an agricultural courtyard overlooking a beautiful landscape. The design choices blend contemporary and traditional details, giving the building a distinctive character. The garden and outdoor space complete the project. The façade boasts references to classical materials typical of the place, as well as modern frames, monolithic elements that define the openings, characterising them and relating them to contemporaneity. The rhythm of the openings is schematic as in a classic farmhouse, but thanks to these perimeter cornices, a façade that is also traditional can be brought up to date and enlivened.
The entire building has been designed for maximum performance in terms of energy saving and use of eco-sustainable materials, employing the construction technology of the timber frame system. In fact, both the vertical partitions (walls) and the horizontal partitions (floors) have been designed with wooden structures and highly insulated drywall.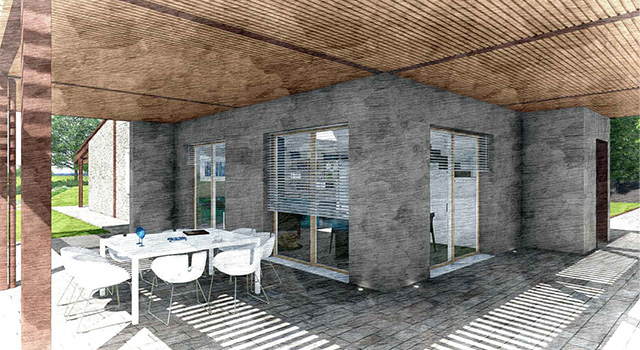 The house will be built using the PLATFORM FRAME construction system
Client: private customer
Architectural designer: Mr Pierfrancesco Paradisi (architect)
Structural designer: Mr Andrea Montagna (engineer) Massimo Gradoni (engineer)
Supervision of architectural works: Mr Piergiorgio Pistelli – Mr Francesco Ciuccoli
Systems: Bruni Massimiliano