Work will begin soon on a new wooden semi-detached villa in the municipality of Recanati (MC).
The project envisages demolition and renovation and subsequent building of two adjacent and independent residential units on a single ground floor.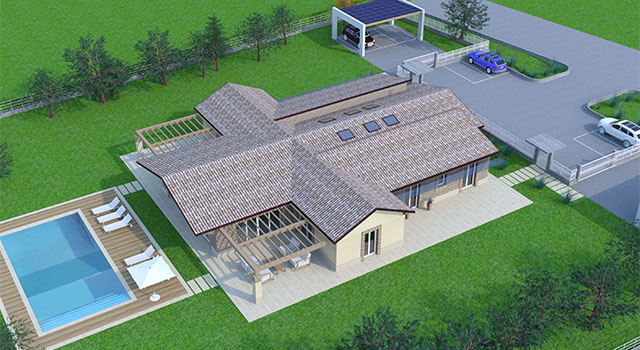 The two apartments, which will measure a total of around 350 square metres overall, will consist of a large entrance hall and living room, kitchen, hallway, service rooms, three bedrooms, two bathrooms and a technical room for installations.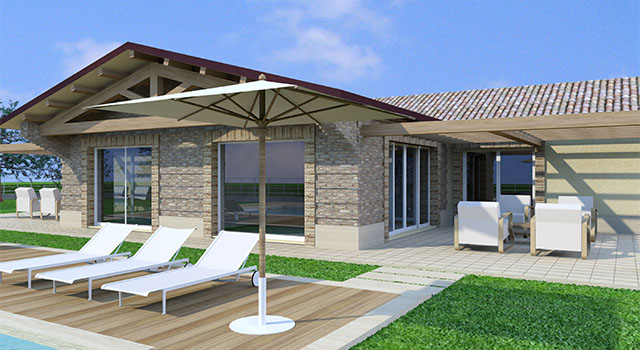 Behind the kitchen-living room, there is a pergola of around 40 square metres and in the common courtyard on the south-east side there is a swimming pool of 72 square metres.
On the external façades, the project envisages the finishing of the face with coloured lime plaster (soft earthy colour), enhanced with exposed brick and/or stone in the cornices, skirting and pillars of the porticoes. The roof covering of the pitches will be made of antiqued Portuguese tiles.
The glulam load-bearing structure will consist of walls and beams, a glulam roof slab and copper sheet metalwork.
The windows and French windows will be made of PVC with aluminium sunshades. The interior finishes will consist of stoneware and/or wood floors, single-fired wall tiles, hollow core wood interior doors and walls painted with water-repellent paint.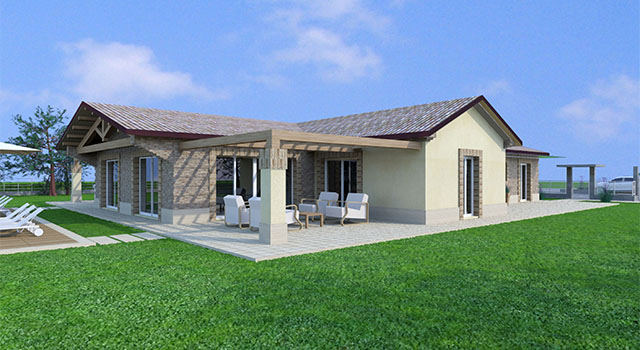 The building will be equipped with a water-sanitary system, underfloor heating system powered by a heat pump, an electrical system and a photovoltaic system with a power of 11.7 kWp for each apartment, with panels installed on a suitable external structure.
The intervention is aimed at energy and structural upgrading. The construction will be built with a wooden load-bearing structure of the "Subissati Platform Frame" type.
Architectural Design:
Claudio Giuggiolini Surveyor
Via I° Luglio n. 2/A - 62019 - Recanati (MC)
Tel: 071-9011657 - Mobile: 335-460257
e-mail: geom.giuggiolini@libero.it