In the municipality of Morro d'Alba , work will start on a new wooden house.
Details of the key points of the project are provided below.
Architectural aspects
The building is on two levels , the main part of which consists of a living room with a mezzanine floor (around 40 sqm), from which the volume of the building develops. The residential areas of the building, which measure a total of around 160 sqm) , are on the ground floor with direct access from the main road, and open out onto a large panoramic terrace.
The basement houses a garage, technical rooms and a living room.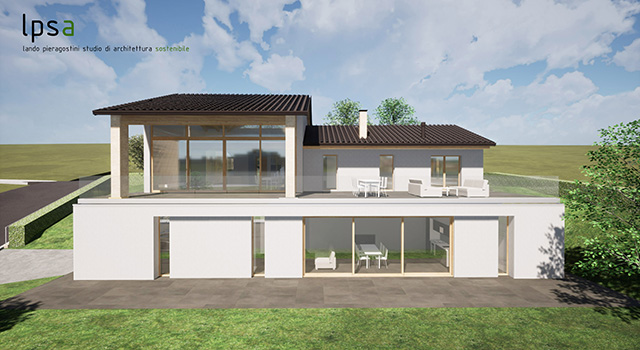 Natural light is the undisputed star of the project.
Large picture windows ensure continuity of the interior with the outdoor area and the surrounding landscape.
Light is therefore used in a functional way to shape the rooms, make them comfortable and bring them to life.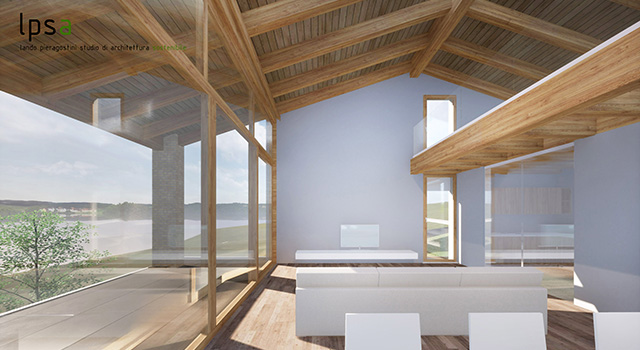 Reinforced concrete will only be used for the structural parts of the building in contact with the ground.
The two above-ground floors will be built with a wooden structure, in order to minimise the weights and contain the foundation structures. The structure will be of the frame and balloon-frame type, with glulam load-bearing elements, floor decks and fir board roofing.
Heating system, renewable energy sources and energy class
The use of wood and natural fibres creates a completely natural, environmentally friendly and highly insulated construction, which, combined with the use of renewable energy, ensures a high level of environmental sustainability.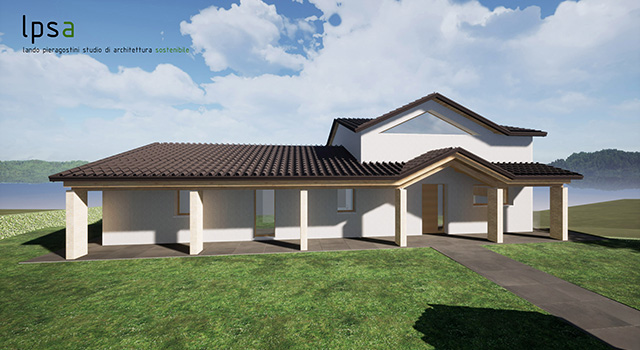 The house will be in energy class A4 and will be equipped with a radiant floor heating system powered by an electric air-water heat pump and a photovoltaic system.
Architectural Design LPSA lando pieragostini studio di architettura
Mr. Lando Pieragostini (architect)
Mr. Diego Federici (engineer)
Structural Design S.T.A. LANDI di Landi Ortolani Santinelli Pomili
Mr. Michele Santinelli (engineer)
Plant Engineering Mr. Simone Rampichini (engineer)