CONCEPT HOUSE_BS
The concept of House BS is the result of careful planning and attention to aspects of bio-architecture. Eco-sustainability, intended as a philosophy of life and a different cultural approach proposed by the architect, was shared by the client and the company; the common goal was to obtain a building that limits waste, optimises costs and fits into the existing urban fabric in a balanced way, safeguarding and protecting the environment.
The simplicity of the forms, reminiscent of a rural house in the Marche region, the functional distribution of the various rooms, the attention to the right orientation, the ability to make the most of natural light and the accuracy in calibrating the various structural elements and plant engineering aspects have resulted in a building that is "self-sufficient" in terms of energy.
The visual-formal aspect of the home becomes a manifesto formed innovative choices applied to traditional forms, capable of incorporating contemporary architecture into a fragile territorial context that needs to be renewed and upgraded through the discovery of new relationships of proximity; the home takes possession of a residual and anonymous portion of the territory and enhances it.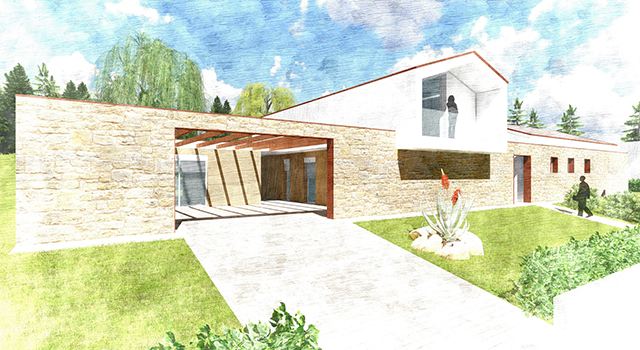 THE COMPOSITIONAL PART
The compositional part of the house is simple, minimalist and pure. It is characterised by the use of three different finishes that highlight the compositional elements of the project: the wall, the cap and the features.
The wall: this screens and protects the rooms from the street and from the surroundings, which have no architectural or natural value;
the cap: this is the continuous part of the roof that protects and encloses all the rooms underneath, creating overhangs, niches and external porticoes;
the features: this is the set of volumes that form the heart of the residence and that open up towards the green, panoramic and more intimate space of the lot.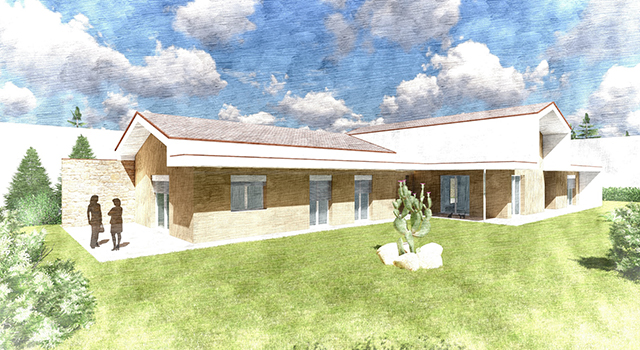 INTERIORS
The internal distribution is structured around four main blocks. The first is the entrance, preceded outside by a green porch between the stone wall and the front door; a cloakroom and guest bathroom are part of this block. The second is the living area, formed of the living room, dining room and kitchen on the ground floor and a study on the mezzanine floor. The sleeping area is distributed on one level and comprises two single bedrooms, a laundry area, a bathroom and a double bedroom with walk-in wardrobe. Finally, detached but still contained below the roof is the annexe, which will be built at a later date.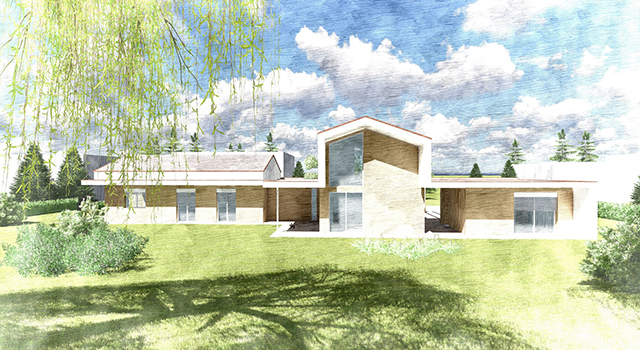 These four different areas are clearly identifiable from outside the house, as they have different shapes, heights and orientations.
The house has a gross floor area of around 165 sqm on the ground floor, 60 sqm on the first floor (of which 20 sqm on the mezzanine) and 30 sqm of annexe and will be built using the "Subissati Platform Frame" construction technology.
House BS will be built in the municipality of Spinetoli (AP ), Pagliare del Tronto.
Architectural design: Ms. Marilena Romanelli (surveyor) - Mr. Pierfrancesco Paradisi (architect)
Structural design: Mr. Paolo Ricciotti (engineer)