The new primary school, named after Rita Levi Montalcini was opened on Saturday, 9 April.
To cut the ribbon opening one of the largest schools in our region were the mayor Noemi Tartabini with all of her officials, the president of the Marches region, Francesco Acquaroli, represented by the regional and provincial councils, the Potenza municipal administration, the neighbouring administrations and the leading civil, academic, law enforcement and religious institutions.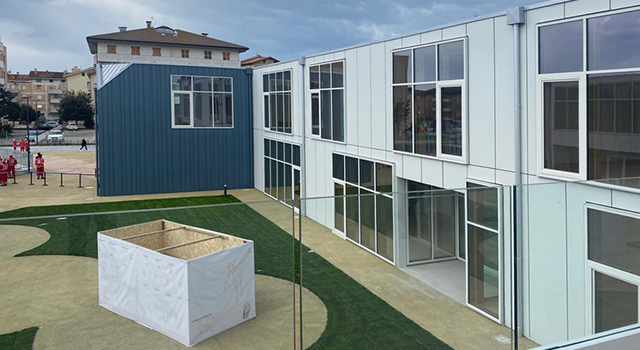 Clearly, our practice was present, represented by Francesco Subissati, Paolo Subissati and other members of the team.
The many people attending the celebration. Events, exhibitions and art workshops made this a very enjoyable day for the community of Potenza Picena. A great deal of appreciation came from those attending the important opening, in particular for having achieved the project's primary aim, which was to favour an educational ecosystem that puts the child at the centre of everything.
The works for the wood-built school were completed in around one year and, given the dimensions of the structure (two levels of a total of 4000 m²) we can say that it was only possible thanks to the major teamwork that brought together all of the parts that made it a wonderful journey.
CLIENT: Municipality of Potenza Picena
PROJECT MANAGER: Ms Dora De Mutiis
DESIGN GROUP:
- Mr Attilio Marchetti Rossi
- Cesaretti Engineering S.R.L.
- Ms Elisa Romagnoli (engineer)
- Mr Francesco Valentini (architect)
- Mr Mirco Moreschi (surveyor)
- Ms Laura Lova (architect)
DESIGN TEAM DRAFTING THE PROPOSED IMPROVEMENTS
Mr Pierfrancesco Paradisi (architect)
Ms Silvia Lupini (architect)
Serpilli Engineering: Ms Gianluca Serpilli (engineer) Fabio Serpilli (engineer) Claudia Serpilli (architect)
Subissati design: Ms Massimo Gradoni (engineer) Roberto Mosca (engineer) Andrea Montagna (engineer)
Site surveyor's office
Gasparoni Matteo (surveyor)
Construction firms
Subissati S.r.l.
Cecconi S.r.l.