In Recanati (MC) we have recently completed work on a new prefabricated single-family detached home in glulam.
The project was the result of an intervention of demolition and reconstruction with conservative purposes, respecting the rural architectural context of the existing buildings.
Controlled demolition allowed recovery of a large part of the original bricks, as well as the wooden lintels and the brick and tile cornice.
The external staircase, typical of a rural house in the Marche region, was retained and used to create a protected entrance to the ground floor.
The new structure was completely built in glulam except for the concrete foundations and the ground floor slab, which was made of concrete brick of the ventilated type, and is on two floors of approximately 175 square metres each.
In order to fully enjoy the panoramic view to the north, a full-height window connecting the floors has been built.
The solution adopted makes the building unique from an architectural point of view and further enhances the panorama that opens over the towns of Osimo, Castelfidardo and the Monte Conero Natural Park.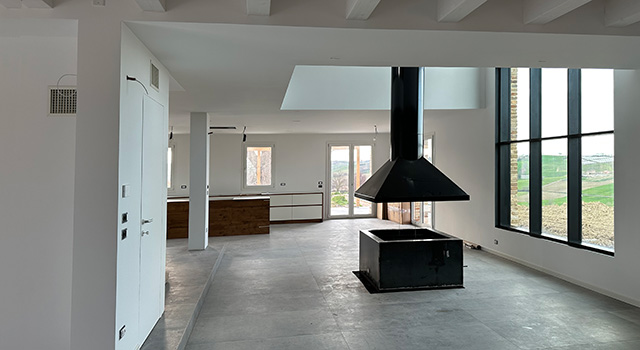 The house was constructed using the "Subissati Platform Frame" building technology.
Client: Private
Design:
Mr GIOVANNI FABBRINI
Via Litoranea, 95A/2 – Marotta di Mondolfo (PU) 61037
VAT no. 02468520412
e-mail: giovanni.fabbrini@gmail.com – Tel. 346-7869551