CASA NG
Based on a young couple's dream, "Casa NG" will be built among the hills of Treia (MC).
Simplicity, functionality and sustainability are the three features that immediately found the designers, customers and building firm on the same page and around which the project took shape.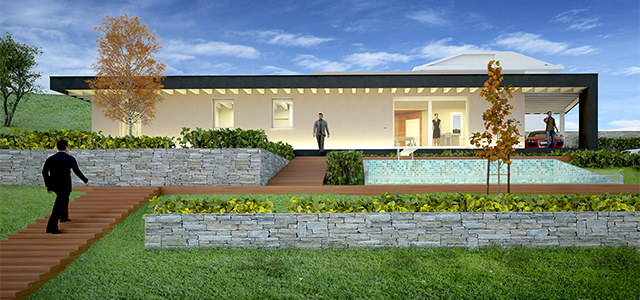 Simplicity This element is achieved through a contemporary and simple architectural design that fits perfectly into its surroundings, thanks partly to the choice to build the structure on a single floor above ground.
Functionality
Each room has been conceived and designed to suit the needs and lifestyle of a young family, interpreting their dreams and plans for the future to guarantee the best use and adaptability of the spaces.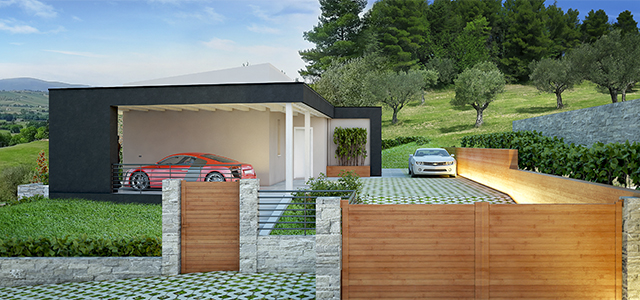 The home is single-storey and measures around 130 m2. A large double-height open space houses the kitchen, dining room and living room. The sleeping area is in an equipped independent area and is formed of three bedrooms, two bathrooms and two service rooms.
Partial views and openings in the indoor areas provide a constant link with the outside, through loggias and porticoes measuring around 70m2. The living area in particular, as the centre of day-to-day living, is immersed in the surrounding countryside through a large picture window facing the Sibillini mountains.
Sustainability.
The idea of a project based on bio-construction that makes the most of the natural resources and the surroundings was what led the customers to choose wood as the building material.
This objective also led them to opt for a "totally electric" home. The low-temperature floor heating system, the high-efficiency heat pump for heating and hot water and the photovoltaic system to rationalise and reduce energy consumption guarantee the highest standards of efficiency and comfort.
Client: Private
Architectural Designer and Works Manager: BIM Specialist - Mr. Jonathan Sileoni - architect
Interior design and BIM modelling: Nicola Pettinari
Structural designer: Mr. Daniele Menghi - engineer
Safety and energy coordinator: Mr. Federico Palmucci - engineer